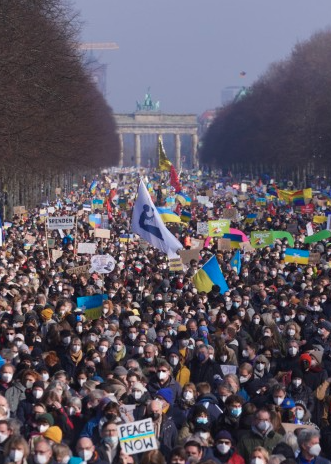 Every one of us wants to help now. How? You can find out here!
#jetzthelfen is a place where all offers of help for the people in Ukraine are collected, so that you can see at a glance how, when, where and with what you can support concretely. We do research, collect information, take notes and mediate. #jetzthelfen is for everyone who wants to help now or has concrete offers of help.
You know of other initiatives and offers of help?
If you have information about other offers or would like to offer help, contact us and we will add it to the #jetzthelfen platform.
We awoke from a state of shock at the end of February … from a swoon … restless nights lay behind us, spent in front of news tickers and special broadcasts. We find it hard to grasp and even harder to bear what is happening around us right now. This inexplicability must be endured. And that makes us so incredibly angry and deeply sad.
What we are experiencing right now is a turning point in time, an epochal break. The world is no longer what it was just a few days ago. Everything is different now. This feeling hurts. This feeling of being at the mercy of others.
We know it's Putin's war alone. Putin's attack on democracy, on humanity. This cruel act of evil, of a tyrant and despiser of humanity, this terrible war against the civilian population in Ukraine shakes people around the globe.
Since then, we in the hy team have been moving even closer together, strengthening each other and drawing new strength together. Strength and motivation to help the affected people in Ukraine, our friends, colleagues and neighbors.
After very emotional discussions in our start-in-the-week round with the entire team, it was clear to us that a "back-to-business", "back-to-normal" is impossible, psychologically unbearable. That's when the idea came up to use our expertise, our network, to help quickly and without complications. Without a lot of words, directly follow up with deeds.
We don't reinvent the wheel, but bring together the many countless, great initiatives that already exist or are currently being created here in Germany and give them visibility and reach so that they can act and help quickly and easily – and prevent them from being lost in the flood of information in the social media. #jetzthelfen provides a permanent place that makes all initiatives and relief efforts visible. For everyone who wants to help now.
#jetzthelfen is a personal heartfelt contribution of our team and we are grateful that our management supports us and gives us the space to do so.
Anyone who wants to join in and contribute, in any way, is welcome – get in touch with questions, ideas and suggestions via info@jetzt-helfen.com.
Charlotte, Danny, David, Julian, Julius and Sophie